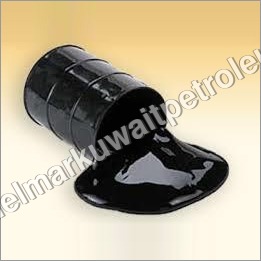 Bitumen
Product Code : 02-Bitumen
Product Specifications
Type

:

Petroleum Asphalt
Product Description
Delmar Kuwait Petroleum is one of the largest supplier of various grades of Bitumen in the Middle east. We can provide high quality of bitumen as drums and also in Bulk.
We follow the best packaging practices to deliver these Bitumen to the clients safely. We also offer these products at reasonable price in the industry.
APPLICATIONS:
This product is used in road surfacing, paving grades and various other industrial applications.

It used in hard grades like enamels and paints etc.

Our product is used in

Oxidised/Blown Grades such as electric products, waterproofing, roofing etc.

Widely find its applications its application in Cutback Bitumen and some other mixing applications
It is widely used in road surfacing applications.
Polymer Modified Binders (PMBs is widely used to increase the performance at high temperature.
Oxidised/Blown Grades: Roofing, waterproofing, electrical products, and many others.

Cutback Bitumen: Spraying and some mixing applications.

Bitumen Emulsions: Used largely in road surfacing applications.

Polymer Modified Binders (PMBs): Is used to improve performance at high temperatures
Technical Specifications

Bitumen

Specific Gravity at 25oC

Penetration at 25oC 100gm 5sec

Softening point Ring and Ball

Ductilityat 25C(cm) after TFOT min

Loss of Heating max

Drop in penetration after heating

Flash point cleave land open cup, min

Solubility in CS2 (%wt).

Organic matter insoluble in Cs2(w)%

Spot Test

Test Method

ASTM
D-70

ASTM
D-5

ASTM
D-36

ASTM
D-113

ASTM
D-6

ASTM
D-6 & D-5

ASTM
D-92

ASTM
D-4

ASTM
D-4


A.A.S.H.O. American Association of State Highway officials.







0.1mm

(oC)

Cm

%W

%

(oC)

%w

%w




Product































60/70

1.01/1.06

60/70

49/56

100min

0.2max

20%max

250min

99.5min

0.5

Negative

80/100

1.01/1.05

80/100

45/52

100min

0.5max

20%max

225min

99.5min

0.5

Negative

Oxidized Bitumen

Specific Gravity at 25oC

Softening point ring and ball (oC)

Penetration at 25oC, 100gm, 5sec

Ductility at 25C (cm) after TFOT, min

Loss of Heating, max

Flash point cleave land open cup, min

Solubility C52, min

Test Method

ASTM D-70

ASTM D-36

ASTM D-5

ASTM D-113

ASTM D-6

ASTM D-92

ASTM D-4

Unit




(oC)

0.1mm

cm

%WT

oC

%WT

Product






















85/25

1.01/1.05

80/90

20/30

1.5

0.5

260

99

115/15

1.01/1.05

110/120

10/20

1.5

0.2

260

99