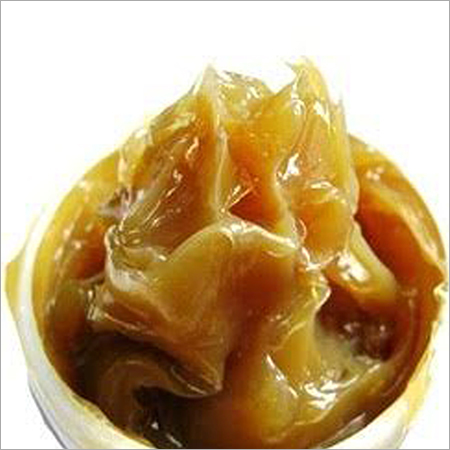 Calcium Grease
Product Code : 03
Product Description
Calcium Grease
The term grease is used to describe semisolid lubricants. Although the word grease is also used to describe lubrication. Greases is that they possess a high initial viscosity, which upon the application of shear, drops to give the effect of an oil-lubricated bearing of approximately the same viscosity as the base oil used in the grease.
Greases are applied to mechanisms that can only be lubricated infrequently and where a lubricating oil would not stay in position. They also act as sealants to prevent ingress of water and in compressible materials.
Grease-lubricated bearings have greater frictional characteristics due to their high viscosity.
APPLICATIONS:
Application for all lubricating Purpose.

Wheel bearing

Mechanical parts
Technical Specifications
Calcium Based Grease

Test Method Value

Color

Worked Penetration

Type of thickener

Dropping point

Maximum usable temperature

Reaction content

Water resistance

ASTM D-445

220-450 D217




ASTM D566







ASTM 1264

Yellow, Brown

After 60 strokes

Calcium soap

90c-95c

140-160oC

Neutral to

Practically resistant

Packing Options

In new Steel Drums (180 kg)

White




Test Method value

Color

Penetration class

Type of Grease

Dropping Point

Maximum usable temperature

Water resistance

Calcium based Grease

White

NLGI 2-3

Calcium soap

90oC-95oC

170oC

Practically resistant

Packing Options

In new steel drums (180 kg)